Since the late 80's there's been a huge musical movement in Japan which to the western world seems similar to "Glam Rock" of the 70's and early 80's. But while the principle of visual kei as a form of expression is the same, the style is quite different from glam music. Called "visual" because of a heavy emphasis put on flashy appearance and style, visual bands are made up of all men who dress up in fashionable clothes, sport wild and colourful hair and often wear makeup. All of this results in an androgynous look that takes some getting used to, but soon it starts to look pretty darn cool. If I hear someone say "you mean kind of like KISS?" I'm gonna kick their sorry ass to Japan where they'll hopefully get a clue.
Vk bands consciously combine sight with sound to create a rich musical experience. On the other end of the spectrum there's the more subtle visual bands. They do style and color their hair and wear very fashionable clothes but they seem relatively normal. A bit of makeup is still often used, but only enough to give the look a bit of enhancement. The emphasis is more on the music itself with the visual element being incidental.
When many of these bands are independent, they start off very with a very shocking look. But as they get major record contracts and gain mainstream success, they tend to lose their visual image bit by bit until it becomes hard to tell that they used to be a visual band. You can see this had happened with many famous pioneers of the genre such as X Japan and Luna Sea who started off with lots of makeup and wild hair, but gradually dropped it for a more serious image. There are a few exceptions to this of course. Malice Mizer for example had become very popular in the mainstream music scene but if anything, they only became more extreme with success. But this kind of thing is pretty rare since extreme visual kei is less accessable to the general buying public. A sizeable percentage of the 13 to 24 year old population may think it's cool, but everyone else is freaked out. But that's becoming less of a problem. Now that visual kei has permiated into popular culture it's become a driving force in the Japanese fashion world. So now you have bands who aren't really visual, but since they incorporate elements of visual kei into their look, they are grouped together with the others.
At first glance one might assume all visual music is goth, punk and heavy metal since in western culture, those are the genres of music that have seen a surgence of hair and makeup groups. While that is how it initially began, it has since deviated and now a great number of visual bands have a more pop music sound while others are more classical music than rock. It can be a bit misleading if you rely on a band's appearance to tell you what kind of music they might play. It's become apparent that visual kei has become more of a fashion movement than an actual music genre.
Pictures:
Hide from 'X Japan"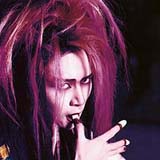 Kyo from 'Dir En Grey'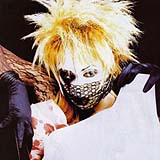 Mana from 'Malice Mizer'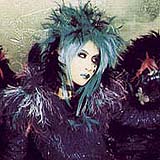 _________________
Touch the button,
you should sit and listen,
watching as a tear rains in to a broken heart...